Spending Christmas in a country that is not your own can be an eye-opening experience. At Severnvale we very much enjoy sharing Christmas traditions with our students and love hearing about celebrations from around the world. This blog is all about how we share festivities with our students and what we have in store for December 2019.
For England, traditions include Christmas crackers, the Queen's speech and lots of mince pies! Throughout the UK cities, towns and villages decorate with trees and lights, the most famous being Oxford Street in London.
However, you don't need to go all the way to London to feel festive. Here in Shropshire there are many events throughout December to please both residents and visitors. From carols in the square to Christmas markets and pantomimes, there is so much to discover.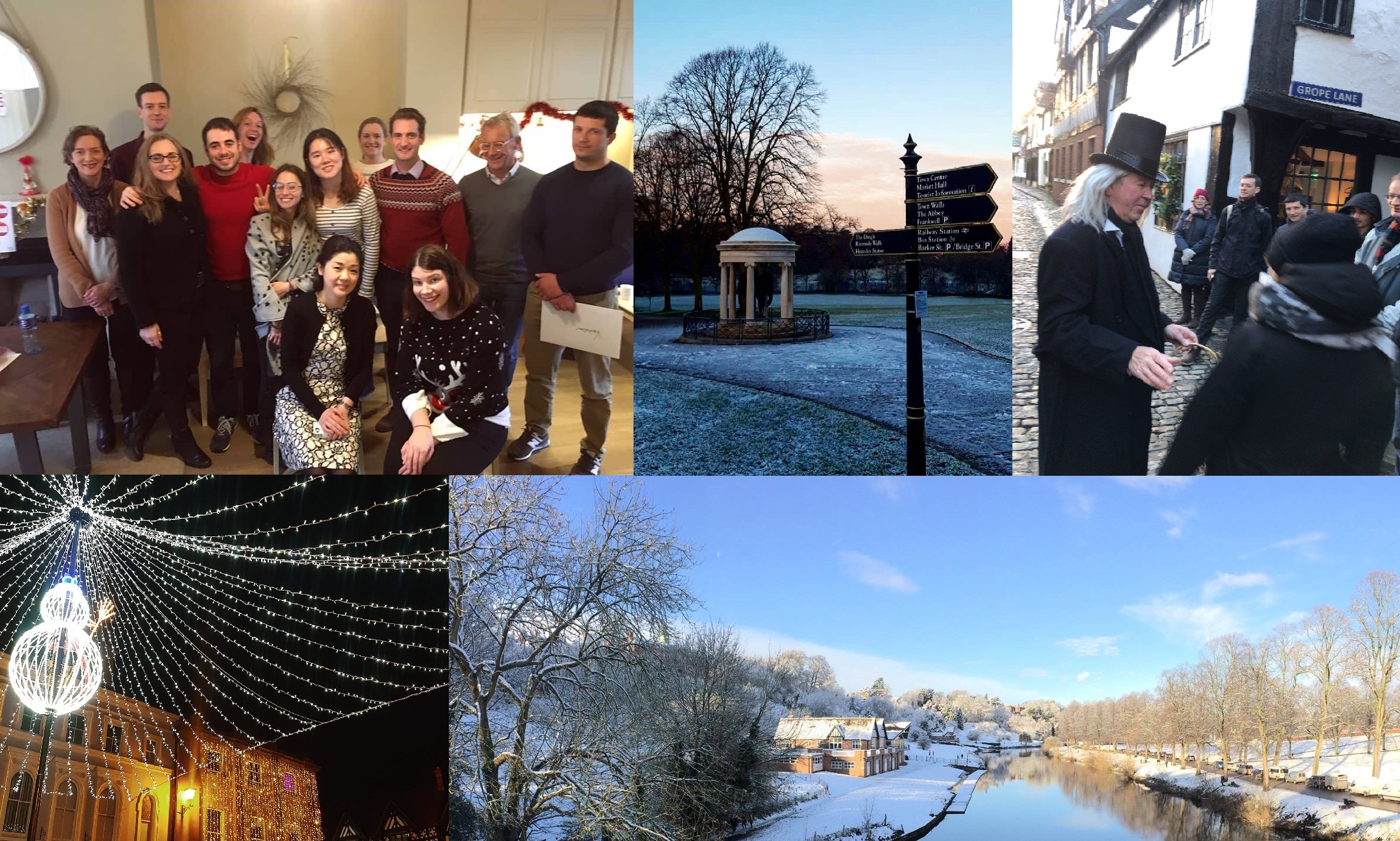 Homestay at Christmas
While the Academy is closed for two weeks over the holiday season, students who are studying into the New Year have the option of staying with their host and learning more about a truly British Christmas.
To give you an idea of what it is like to spend Christmas in homestay accommodation we have interviewed host, Gilly. Gilly has been hosting for many years and enjoys welcoming students from all over the world.
What is your favourite thing about Shrewsbury during the festive period?
It's lovely to host over the Christmas holiday as Shrewsbury has so much to offer.  For example, the panto at Theatre Severn, the Christmas lights switch on and carols in the square which is broadcast live on the radio. Plus all the local festive markets!
Can you tell us about one of your favourite memories/experiences you have had with a student at Christmas?
I have hosted for many years, but last year Sachiko and I had a lovely day in Worcester visiting the Victorian Christmas market. Sachiko loved our speciality Christmas fairs and the individual stalls with all the home made products as they don't have them in Japan.
What do you like the most about hosting at Christmas?
I liked showing off our lovely town, the local area and all that Shrewsbury has to offer over the Christmas period. I particularly enjoy sharing our Christmas meal and gift giving with all the family.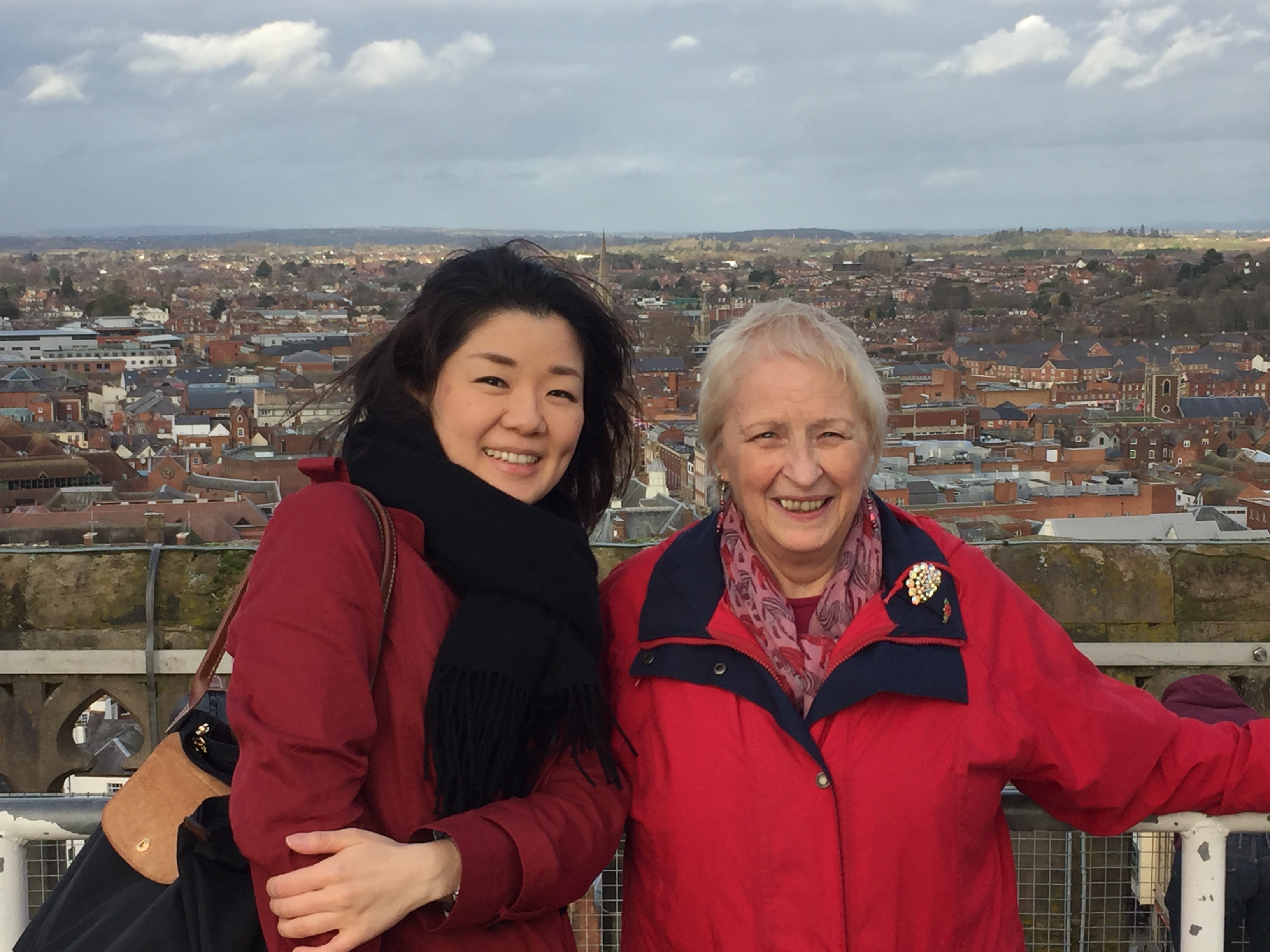 As well as enjoying home-comforts there are also many fantastic events throughout the town and in school.Students have already enjoyed the wonderful Christmas Light Switch on and Lantern Parade but there is still more to enjoy.
This year our well-loved advent calendar will be returning to help countdown.   We will also be having a festive edition of our new 'Cake and Chat Club'. Where we will enjoy some traditional Christmas cakes including mince pies.  In the final week you can join Katie, our Admissions Assistant, and make your own Christmas crackers. They are great souvenirs or a gift for your host!
Social Events
Join Tony for the first social of the month- test your knowledge on everything from music to film and Shrewsbury!
The following week, Lucy will be hosting a film night. The film will be 'students choice'- so don't forget to cast your vote in the student lounge before Wednesday 11th December.
Our final social will be a fantastic town tour with Jane as your guide. The 'Christmas Carol' themed tour will take you via some of the filming locations with a few festive drinks along the way.
Vocab Buster
Tradition- a long-established custom or belief that has been passed on from one generation to another.
Eye-opening- (of an event or situation) unexpectedly enlightening.
Christmas Cracker- a decorated paper cylinder which, when pulled apart, makes a sharp noise and releases a small toy or other novelty.
Souvenir- a thing that is kept as a reminder of a person, place, or event.
Panto (short for pantomime)- a theatrical entertainment, mainly for children, which involves music, topical jokes, and slapstick comedy and is based on a fairy tale or nursery story, usually produced around Christmas.
Mince Pie- a small round pie or tart containing sweet mincemeat, typically eaten at Christmas.