ENTRY LEVEL:
Elementary
(Courses with Business Module 2 require intermediate)
MAX CLASS SIZE:
6 adults*
Average 3-4
*(8 in July and August)
ENROLMENT DATE:
Every Monday
 FOR GENERAL BUSINESS PURPOSES
Courses Bus1, Bus2, Exec2 and Exec3 are perfect for improving your English for a wide range of professional situations – you select the course intensity and balance of course modules to suit your specific requirements, based entirely on mini-group tuition or with a substantial element of 1-to-1 tuition.
Classes are scheduled between 9.10 and 18.05 Monday to Friday (please note you will need to arrive by 8.20 on your first Monday for a test and induction)
INDUSTRY-SPECIFIC
With over 20 years' experience training corporate personnel from hundreds of companies worldwide, we have expertise in teaching people from:- law firms; banking & finance; airports & air navigation; telecommunications; retail; wholesale, distribution & logistics; transport; engineering; international trade; import/export & shipping; automotive & steel industries; dairy, confectionery and food production; public services; utility regulatory bodies; and many other areas. Course B3 and the Executive courses are appropriate if your needs relate directly to your professional area.
 FOR SPECIAL PROJECTS
We can help you prepare for a particular presentation, negotiation, conference or interview. The Executive English courses are ideal for these purposes – individual attention from your tutors is vital to the successful development of your project, while the group lessons develop your overall communicative ability for a wider range of business situations.

Severnvale is a LINGUASKILL examination centre and tests can be arranged on request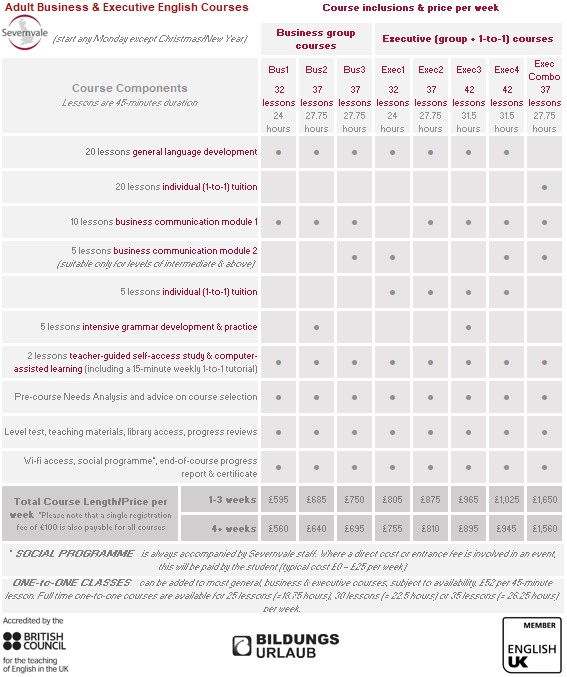 Core Components
Business Module 1 – 'ESSENTIAL BUSINESS FUNCTIONS'
(10 lessons per week included in all business & executive courses except E1; Max. class size 6, av. 3-4 at all times of year)
Select from the following 'menu':
Telephoning
Written communications (formal & informal) including email
Reading business texts
Numerical information & basic statistics
Visiting & visitors
Entertaining
Dealing with native speakers
Diplomacy & etiquette
General presentation techniques
Personal arrangements & business travel
The language of meetings
Describing the company
International business culture & protocol
Business Module 2 – 'SKILLS & DEPARTMENTAL FUNCTIONS'
DEPARTMENTAL FUNCTIONS'
(5 lessons per week included in business & executive courses B3, E1 & E4; Max. class size 6, av. 2-3 at all times of year)
Please note that a higher level of English is required for this module, so the courses which include it are limited to English levels of Intermediate and above.
Select from the following 'menu':
Telephone conferencing
Presenting specific content
Formal meetings & video conferencing
Negotiations
Graphic

 

& visual display
Human resources
Production & process
Marketing & advertising
Sales, distribution & logistics
Reading or writing reports
Public relations
Financial matters
Legal matters
Premises & equipment
Changes in the company
Environmental issues
Product description
Complete this form to find out how much your course might cost. We can answer any questions you have if you want to tailor the course to better suit your needs and budget.    
Our Team - a perfect mix of experience, personality and motivation which enables our students to really thrive. Read about the people who make Severnvale Academy the success that it is.
Read more about Severnvale Academy, our town, our courses and exams and learn some useful tips for improving your English language skills.                                                            
Severnvale Academy
25 Claremont Hill
Shrewsbury
Shropshire
SY1 1RD
United Kingdom