MAX CLASS SIZE:
6 adults*
Average 3-4
*(8 in July and August)
ENROLMENT DATE:
Every Monday
 Intensive General English Courses
Well-designed, intensive learning programmes, small classes and excellent teaching – our key resources in helping you to achieve rapid progress.
Classes are scheduled between 9.10 and 18.05 Monday to Friday (please note you will need to arrive by 8.20 on your first Monday for a test and induction)
  The general courses
The general courses are skills-based and develop your ability to communicate accurately and confidently in English. Additional grammar, 1-to-1 and examination lessons are available for those with specific needs or limited time to study. The courses we offer suit those with academic English requirements as well as satisfying general and basic professional English demands.
PLEASE NOTE THAT EXAMINATION COURSES ARE AVAILABLE AT ALL TIMES EXCEPT DURING JULY AND AUGUST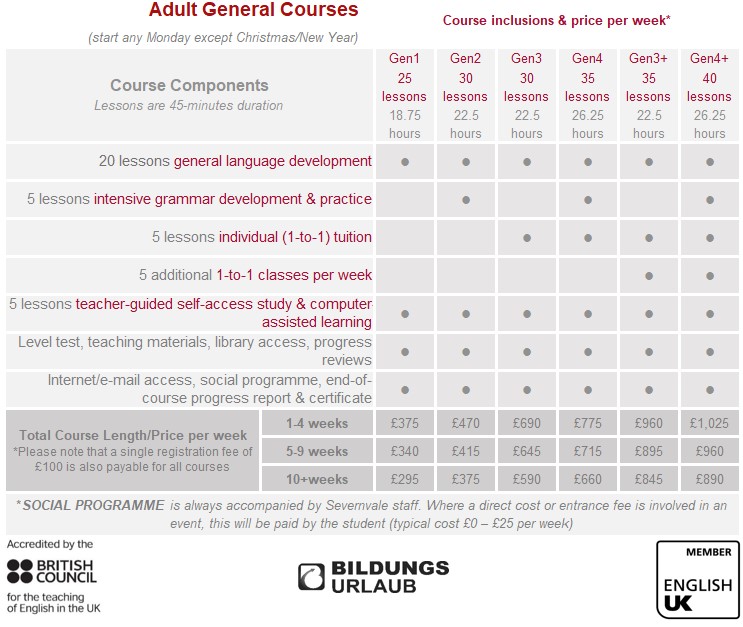 Examination preparation courses
Intensive English exam courses are available for all the exams listed in the table below including specific IELTS preparation.
Severnvale is an examining centre for TOLES and LINGUASKILL (General and Business). We have wide experience preparing students for these and all the other exams listed in the table below.  Exam entry fees apply:
Linguaskill (4-skills): £150
Cambridge FCE/CAE/CPE: £115-£135
TOLES: £150
 Severnvale Examination Dates
Severnvale is an examination centre for the Cambridge LINGUASKILL). The LINGUASKILL exam is available throughout the year on request. In addition it is possible to take the Test of Legal English Skills (TOLES) exam on 5 dates a year (January, March, June, August and November). If you have any questions or would like to book onto an exam please contact our exam team.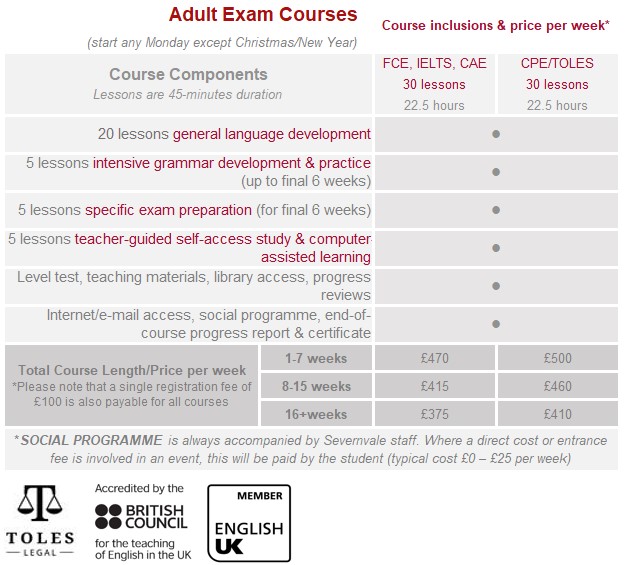 Complete this form to find out how much your course might cost. We can answer any questions you have if you want to tailor the course to better suit your needs and budget.    
Our Team - a perfect mix of experience, personality and motivation which enables our students to really thrive. Read about the people who make Severnvale Academy the success that it is.
Read more about Severnvale Academy, our town, our courses and exams and learn some useful tips for improving your English language skills.                                                            
Severnvale Academy
25 Claremont Hill
Shrewsbury
Shropshire
SY1 1RD
United Kingdom