ENTRY LEVEL:
Lower Intermediate (B1)
to Proficient (C2)
MAX CLASS SIZE:
6 adults*
Average 3-4
*(8 in July and August)
ENROLMENT DATE:
Every Monday
Legal English
Ideal for those interested in law, wanting to improve their legal writing, drafting, communication and negotiation skills. The course will provide an opportunity to practise networking skills and co-operation with other professionals. During your course you will visit a court and have a chance to review the UK legal process and enjoy an evening networking event with professional colleagues and staff.
Classes are scheduled between 9.10 and 18.05 Monday to Friday (please note you will need to arrive by 8.20 on your first Monday for a test and induction)
Legal English Courses
Legal Entry Course is designed for those studying for a career in law.
Legal Exec Course is designed for those working in legal practice.
Legal Combo Course is designed for those who have limited time and want to focus on specific subject matter in focused 1-to-1 sessions.
Fixed Date Legal English and TOLES Course is designed for those who want to combine their study with a qualification.
Core Components
Legal Communication Module 1 is designed for those studying for a career in law. 5x 1-to-1 lessons per week provide focus on basic legal concepts, institutions and general legal areas such as contract, tort, company formation and operation (Legal Entry course)
Legal Communication Module 2 is designed for those working in legal practice. 10x 1-to-1 lessons per week provide specific focus on a wide range of practice areas including, Contract, Corporate and Commercial, Banking, Litigation, Property, Competition, IP, Employment (Legal Exec Course)
Both Legal Communication Modules 1 and 2 focus on use of legal language and vocabulary, drafting techniques, negotiation and advocacy skills, correspondence and legal documents, telephone and video conference call and legal meeting skills
All our Legal English courses also incorporate Business Communication Module 1 for the development of general business communication skills required in an international environment.
Business Communication Module 1 focuses on essential business functions including: formal and informal writing; telephoning; reading business documents and numerical information; language of meetings; dealing with native English speakers; travel; business culture; diplomacy and entertaining.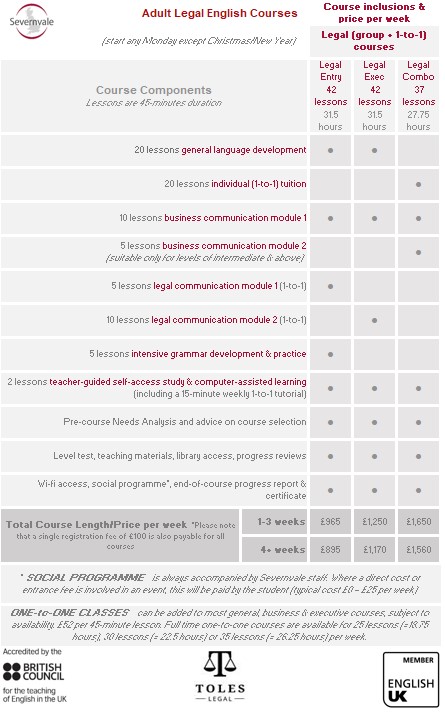 Are you looking for something more intensive?
Our most intensive and personalised Legal English programme is the Legal Combo course which incorporates 20 x 1-to-1 classes (Legal and General English) alongside Business Communication modules 1 and 2 (37 lessons/27.75 hours per week). Please contact us and we will carry out a bespoke needs analysis to ensure the course is aligned to your individual requirements.
Complete this form to find out how much your course might cost. We can answer any questions you have if you want to tailor the course to better suit your needs and budget.    
Our Team - a perfect mix of experience, personality and motivation which enables our students to really thrive. Read about the people who make Severnvale Academy the success that it is.
Read more about Severnvale Academy, our town, our courses and exams and learn some useful tips for improving your English language skills.                                                            
Severnvale Academy
25 Claremont Hill
Shrewsbury
Shropshire
SY1 1RD
United Kingdom